12 Days of Christmas - Win a free MOT
With Christmas just around the corner, Birch Service Centre is spreading some festive cheer with its 12 Days of Christmas social competition. From 01 December we're bringing you our own #12DaysofChristmas and wrapping you up the chance to win a free MOT to spread some festive cheer. Simply follow us, like and share our social posts and we'll pick 5 lucky winners at random. Watch out for our daily posts for your chance to win.
Each day we'll be posting on our Facebook and LinkedIn pages from 01 December.
With an MOT required by law as an annual test of safety, roadworthiness and exhaust emissions, take the chance to get your next one for free! Our 5 winners will have 12 months to be able to book their winning MOT with us.
If you're not sure when your MOT is due, don't delay finding out as you could face £1,000 fines for certificates expiring. You can check by entering your vehicle registration here.
Here are just some of the things you can do to get your car pre-MOT ready:​
Tyres: Check all four tyres for damage and tread depth regularly and keep them inflated to the correct pressure. Legally, the tread depth must be at least 1.6mm, but for peace of mind, 2-3mm is recommended.​
Wipers: Make sure your windscreen wipers give a clear view. If the rubber blades have perished, or there are any tears or holes, it could result in an MOT fail. Don't forget to test your rear wiper too.​​
Lights: Make sure all of your car's lights function properly – headlights, sidelights, rear lights, hazard lights, indicators, and even the number plate light.​​
Windscreen: Any chip or crack in your windscreen that is larger than 40mm will result in a failed MOT.​​
Horn: Test it by giving it a short blast. If it's defective, it will result in an MOT fail.​​
Mirrors: Make sure all of your car's mirrors are intact and secure.​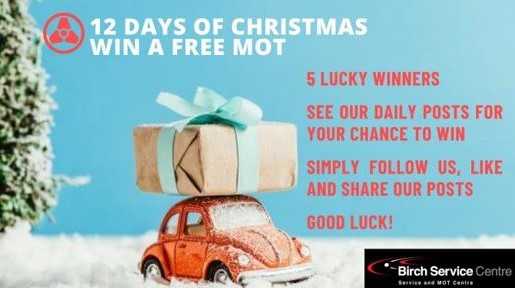 How does the 12 Days of Christmas work?
1) Follow our Facebook or LinkedIn page
Our 12 Days will take place on our Facebook and LinkedIn pages starting 01 December, so to make sure you do not miss any of our posts and start to follow us on these platforms.
2) How to enter
Go to either our Facebook and LinkedIn pages and simply follow us, like all or just one of our posts during our 12 Days of Christmas, share with friends and family on that post and you'll be automatically entered to win.
The winners will be drawn on Monday 13 December 2021. Terms and Conditions apply.​ Good luck!